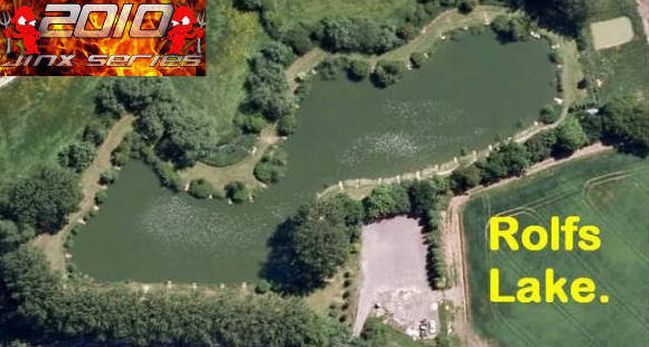 Jinx Match 2
Well, another Saturday and another Jinx Match. I awoke to the sun streaming through the curtains and the forcast was for a warm one, so after a quick shower it was time to feed the cats and make a coffee, and get the car loaded before setting off via Battersea for my usual stop at The Jimmy Griddle where Sausages, Bacon, Eggs and a Fried Slice
washed down with a mug of tea took care of breakfast. An uneventful run down saw me pulling into the car park at Rolf's around 10·30am to find the place rapidly filling up. With Pauline providing a mug of coffee the banter commenced as we waited for the others to arrive. The car park soon filled up and just prior to the draw Gem handed over that PINK HAT!!!!!!!!!!

......
So on to the draw, I'm in A section which is the Little Lake today, and hoping that a half decent draw would allow me to have a better day today. So into the draw bag and I find that peg 36 is to be my home for the match......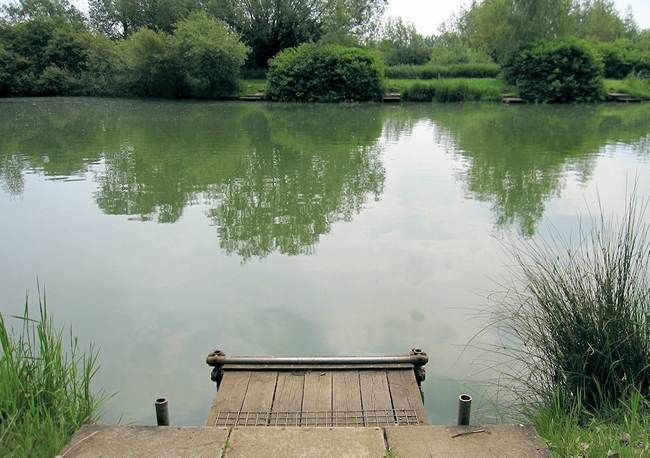 If I'm honest it's the last peg in the section that I wanted to be on, however someone had a decent result the previous Sunday fishing the feeder from there so that was going to be plan A for me today.
The rod was a Mach 3 11ft feeder paired with a Daiwa 3012 Whisker spooled with 6lb Maxima. Just a simple running ledger rig with a Drennan cage feeder attached via a link swivel, finished off with a size 14 QM1 with a hair to take 3 pieces of sweetcorn. Groundbait was simply a bag of 4mm fishery pellets wetted down with a generous dusting of GOT Green Grub groundbait to bind them together. I also set up a Shakespeare Mach3 XT 11ft Pellet Waggler coupled with the new 035 MACH 3 XT Front Drag Reel spooled up with 4lb Maxima along with a 3AAA waggler to fish a banded pellet as I was planning to catapult pellets over where I was fishing the feeder and if it brought the fish up I may be able to nick a few. I also set up a couple of shallow pole rigs, but wasn't really planning on using them.

So at 1pm Malc called the All-In. Out with the feeder rod and within a couple of minutes a firm wrap on the tip signalled fish on. A spirited fight ensued but the first fish of the day was soon residing in the landing net, a weigher that went 10lbs and a most satisfactory way to kick of the day

. Unfortunately a second fish was in no hurry to take the bait leaving me looking at a stationary tip for quite a while.

Dave and Clive over on pegs 7 & 8 appeared to be going along quite steadily though. Indeed Dave had managed a proper lump on his feeder rod, weighing in at 18½lbs, comfortably the largest fish that Dave had caught on a rod and reel

......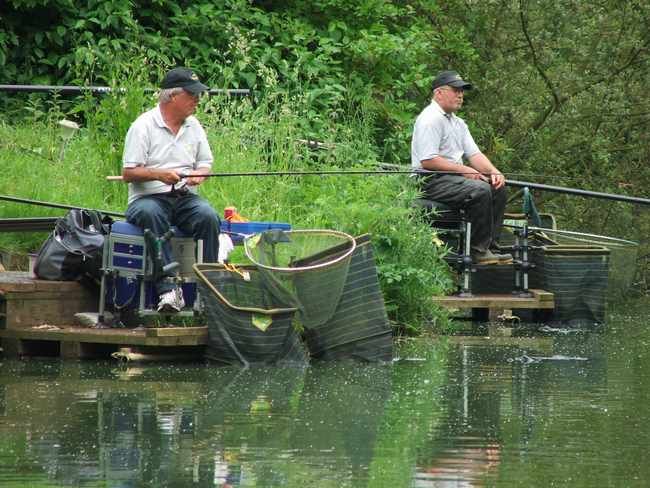 Steve to my right on peg 34 was fishing up to the buoys and had got off to a decent start and already looked like he would take all the catching......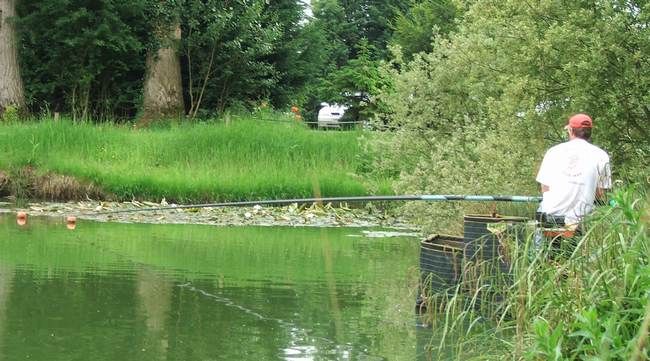 In general though things appeared to be slow for most, With the temperature around 27°C the sky had clouded over leaving it feeling oppressively sticky and both the anglers and the fish lethargic.

Over on peg 4 I could see Simon, at first it appeared that he was having a good day with quite a few fish, but the reality was that he was being plagued with foul hookers, which having stretch his elastic to improbable lengths were shedding the hook before he could net them
.......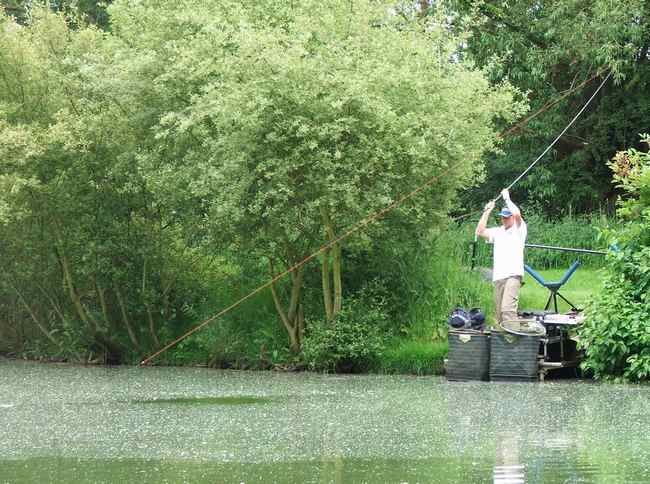 "Budgie" on peg 40 appeared to be suffering another grueller, and hoping for a better outcome than he'd suffered on the 1st Jinx Match when he'd finished last
......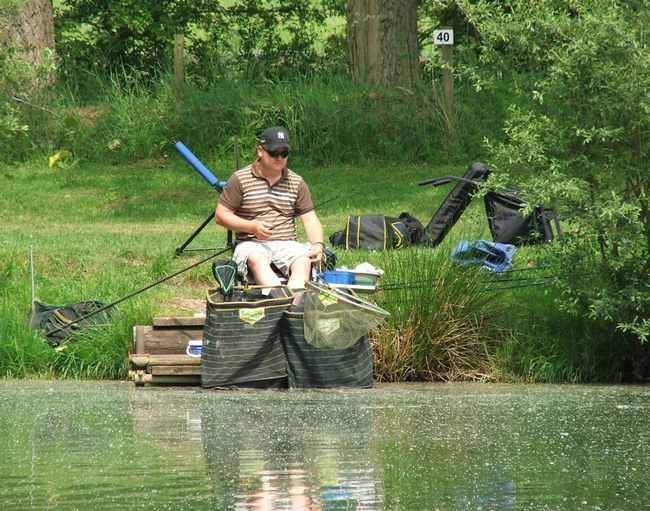 Paul on peg 2 had managed a couple, but it looked as if the fish in his peg were on steroids, as they were giving him a right old run around before he could finally get them in the net......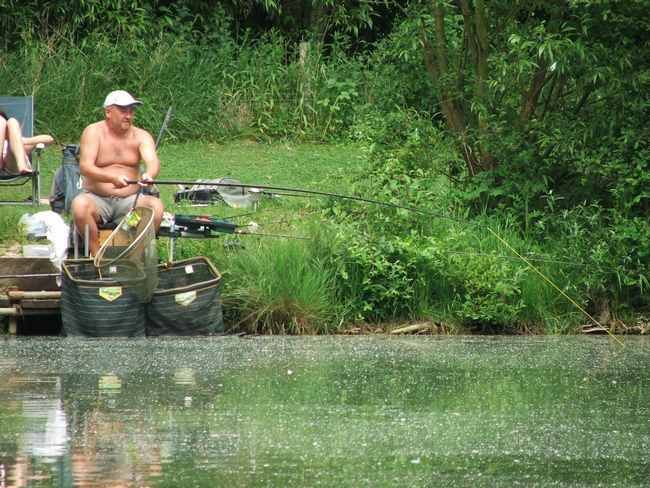 Around half way through the match Malc's dulcet tones were heard, which is always a worry as disaster for others seems to follow him as a constant companion. This time it was Steve's turn to suffer the force of The Jinx with his No 4 section breaking as Malc raised his camera......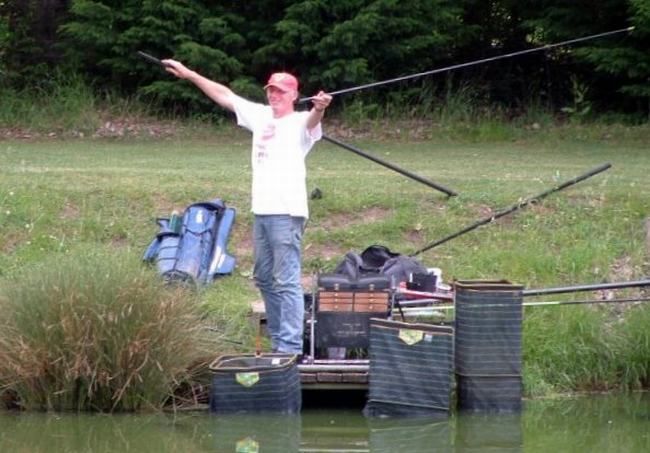 Meanwhile Jon to my left on peg 38 was working through plans A-Z but all he could tempt were a few small roach and perch from down by his keepnets.......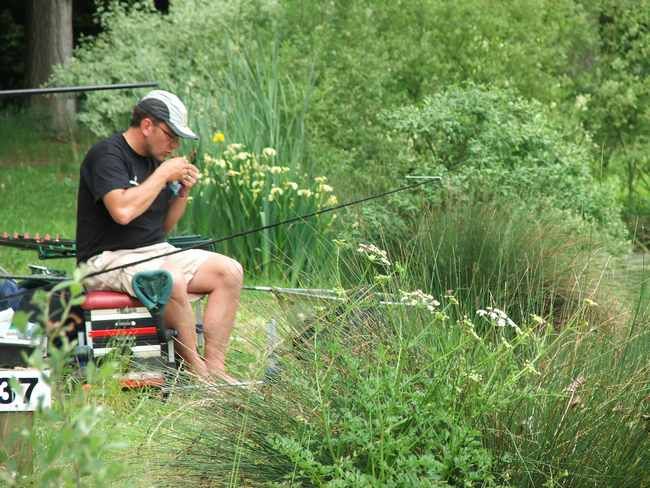 Things had picked up for me however with a couple of quick fish falling to the feeder, but when I looked round while playing the second and found The Jinx himself pointing his camera in my direction I have to admit to a few anxious moments before it was safely in the net......
Time marched on and I managed another couple of fish, 1 to the feeder and 1 to the waggler, but reports from round the lake indicated that the fishing was proving to be very hard for most. Dave and Clive appeared to be still ticking along nicely, especially Clive who appeared to be making hay on the feeder......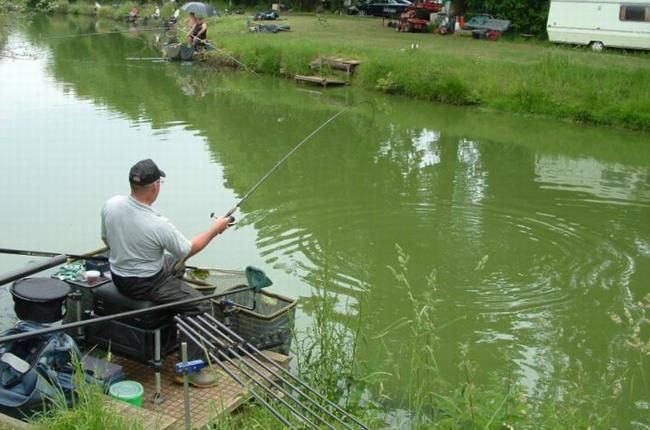 ...... however it transpired that he was losing the majority of them. Steve was still catching on peg 34, even getting a decent Perch on a white boilie!!!!!!

Dave over on peg 6 had managed a couple from his 6mtr line and was no doubt hoping for a strong finish to the match
......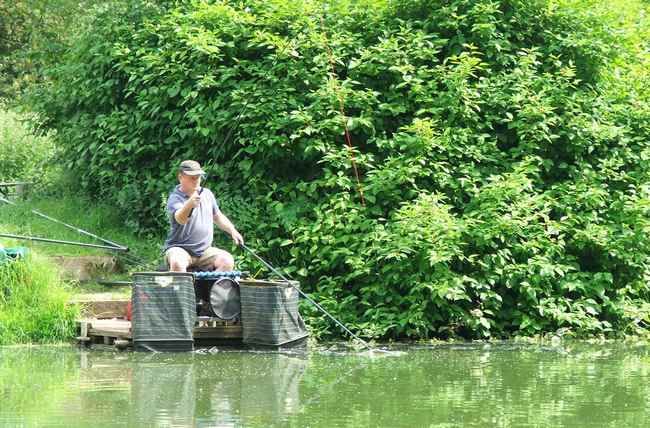 I'd had another quiet spell when Dave strolled round for a chat. He must have brought me a bit of luck, because I managed another couple of carp as we chatted

. He soon departed no doubt inspired to redouble his efforts and Kev's partner Jean appeared with a welcome cup of coffee for me

.

I managed a final couple of fish as the match drew to an end, one of which was foul hooked in the dorsal fin and gave me a right run around before I managed to bundle it into the net. Malc finally called the All-Out at 6pm, which in typical Jinx fashion was the cue for a short sharp rain shower just to cool us down prior to packing away.

So with the kit packed up and back to the car it was time for the Weigh-In. Steve was first to weigh and his 92½lbs set a mark that wasn't going to be beaten

. I thought I had about 50lbs so was pleasantly surprised to find 61½lbs as my final weight

. Jon had over 40 fish to record 4lbs 10ozs, Mostly small stuff. Budgie had finally snared a carp to record 15½lbs. Paul's 41¼lbs was edged out by Simon's 45½lbs.
Dave put a level 35lbs on the scales. I was a bit surprised at Dave and Clive's weights as I'd expected them both to be pushing Steve, but Clive's 55¾lbs edged out Dave's weight of 52lbs 2ozs. Rolf's Lake regular Pete Archer had been guesting on peg 13 but had suffered with untold foul hookers
and recorded 48¾lbs. Another team had weighed in the other half of the lake, the highlight of which were 44½lbs from peg 19 for Al, Malc with 47¾lbs from peg 25, while peg 30 produced a fine 76lbs for Ade. Gem had only managed 1¾lbs, but had still handed Minxings to 3 of the lads so at least I would be waving goodbye to THE PINK HAT

.

Back for the results and Pete Archer kindly provided some prizes from his sponsor Vespe. So with the results all done and dusted, all that remained was to find out who Gem would choose to be the lucky recipient that gets to wear that PINK HAT for the next match? Well readers, allow me to present Mr Paul Dolby
................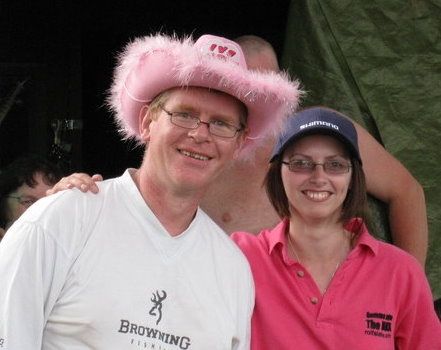 OVERALL RESULT
| | | | |
| --- | --- | --- | --- |
| Position | Peg | Angler | Weight |
| 1st | 34 | Steve Wilson | 92lbs 08ozs |
| 2nd | 30 | Ade Williams | 76lbs 00ozs |
| 3rd | 36 | Peter Morton | 61lbs 08ozs |
| 4th | 8 | Clive Pritchard | 55lbs 12ozs |
| 5th | 7 | Dave Collier | 54lbs 02ozs |
| 6th | 13 | Pete Archer (guest) | 48lbs 12ozs |
| 7th | 25 | Malc Doyle | 47lbs 12ozs |
| 8th | 4 | Simon Mound | 45lbs 08ozs |
| 9th | 19 | Al Loader | 44lbs 08ozs |
| 10th | 23 | Dai Thomas | 43lbs 08ozs |
| 11th | 2 | Paul Roberts | 41lbs 04ozs |
| 12th | 6 | Dave Webster | 35lbs 00ozs |
| 13th | 9 | Scott Weston (guest) | 33lbs 08ozs |
| 14th | 10 | Fred Parker | 32lbs 04ozs |
| 15th | 14 | Dave Moore | 21lbs 08ozs |
| 16th | 40 | Marcus Burgess | 15lbs 08ozs |
| 17th | 31 | Neil Riddy (guest) | 14lbs 00ozs |
| 18th | 11 | Geoff Palmer | 12lbs 04ozs |
| 19th | 18 | Steve Akal | 11lbs 08ozs |
| 20th | 32 | Nick Williams | 9lbs 04ozs |
| 21st | 17 | Tony Roberts | 7lbs 08ozs |
| 22nd | 38 | John Hatch | 4lbs 10ozs |
| 23rd | 21 | Kevin Loveland | 2lbs 00ozs |
| 24th | 26 | Gemma Doyle | 1lbs 12ozs |
| 25th | 15 | Mat Edwards | 12ozs |
| 26th= | 27 | Terry Goff | DNW |
| 26th= | 28 | Paul Dolby | DNW |
Names in PINK are those that were MINXED
SECTION RESULTS
Position

Peg

Name

Weight

1st

34

Steve Wilson

92lbs 08ozs

2nd

36

Peter Morton

61lbs 08ozs

3rd

8

Clive Pritchard

55lbs 12ozs

4th

7

Dave Collier

54lbs 02ozs

5th

4

Simon Mound

45lbs 08ozs

6th

2

Paul Roberts

41lbs 04ozs

7th

6

Dave Webster

35lbs 00ozs

8th

40

Marcus Burgess

15lbs 08ozs

9th

38

John Hatch

4lbs 10ozs

Position

Peg

Name

Weight

1st

30

Ade Williams

76lbs 00ozs

2nd

13

Pete Archer (guest)

48lbs 12ozs

3rd

9

Scott Weston (guest)

33lbs 08ozs

4th

10

Fred Parker

32lbs 04ozs

5th

31

Neil Riddy (guest)

14lbs 00ozs

6th

11

Geoff Palmer

12lbs 04ozs

7th

32

Nick Williams

9lbs 04ozs

8th

28

Paul Dolby

DNW

9th

27

Terry Goff

DNW

Position

Peg

Name

Weight

1st

25

Malc Doyle

47lbs 12ozs

2nd

19

Al Loader

44lbs 08ozs

3rd

23

Dai Thomas

43lbs 08ozs

4th

14

Dave Moore

21lbs 08ozs

5th

18

Steve Akal

11lbs 08ozs

6th

17

Tony Roberts

7lbs 08ozs

7th

21

Kevin Loveland

2lbs 00ozs

8th

26

Gemma Doyle

1lbs 12ozs

9th

15

Mat Edwards

12ozs