A RiveT Piscatorial Promotion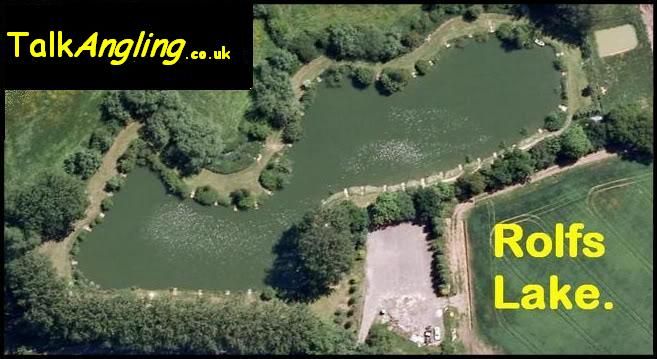 I'm off down to Rolf's Lake today for A RiveT Piscatorial Promotion along with the lads from TalkAngling
. I missed getting my name down for this when it was posted on the forum, but managed to get a place on the match when a few people dropped out. I don't normally get the chance to fish during the week but as I've got few holiday days left it wasn't a problem for me to get a day off
.
Now the thing is, the TalkAngling lads tend to like an early start to their matches and the plan was for a 9·30am draw with the fishing from 11-4pm. This meant an early start for me, but no problem as I said that I'd drop Maria off at work around 6am. This meant that I could still get a 'Full English' from my favourite little café in Battersea before doing battle with the London traffic
.
Thankfully the plan went like clockwork and I rolled into the car park at around 8·45am.

A few of the lads were already there, including fellow Jinx Squad member Simon who'd managed to get a place on todays match the day before, and Mark C and Royst who I hadn't seen for a while as they no longer fish the series.......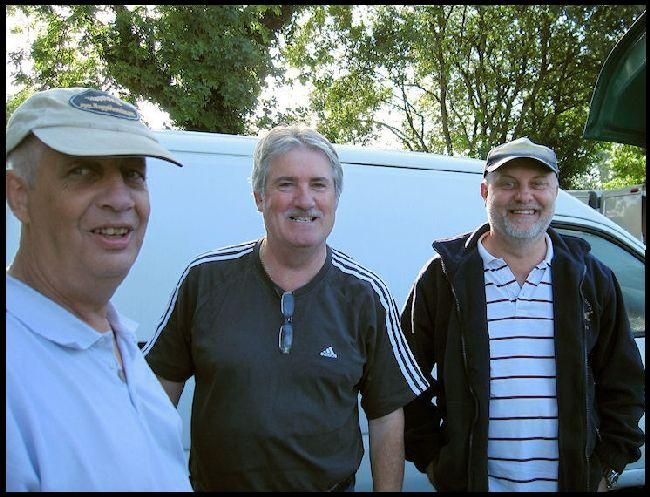 Soon the car park started to fill up, and the chat turned to the prospects for the day ahead, and if I'm honest I wasn't sure just how it would fish
. This was the third day in a row there had been a match on the lake and previous experience has shown that it can make for hard fishing, and the fishing times weren't going to help either as the fish tend not to get their heads down till around 3-4pm
.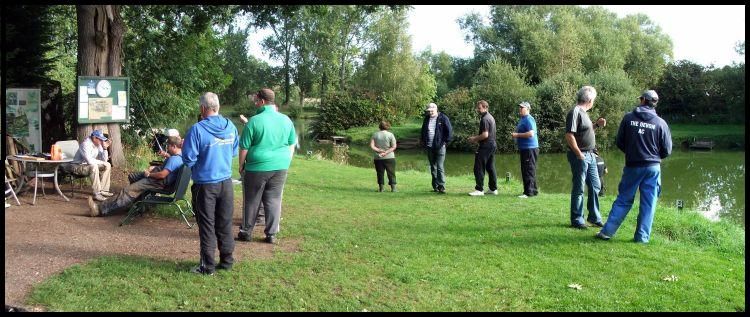 Anyway come 9·30 and no draw
!!!!!! We were all still waiting for Rive T and Larry who'd got themselves lost having ventured so far south. They finally rolled up around around 10am, and after the usual ribbing and pee taking the draw finally got under way with a revised time meaning we would be fishing from 12-5pm. Hand in the bag time, Simon had drawn peg 32 and I found myself holding ..................................... peg 8, well happy with that
.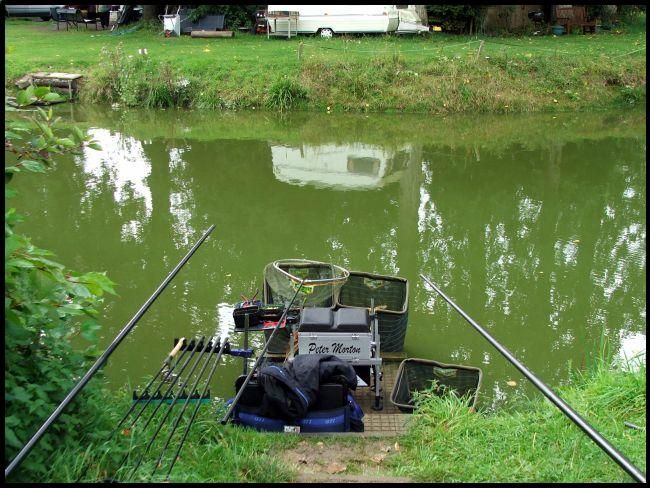 Round to my peg and time to set up. I was planning to just fish a couple of lines today. 5mtrs down the track and to the bushes on my left, and although I also set up the feeder to fish across, that was a bit of an afterthought.......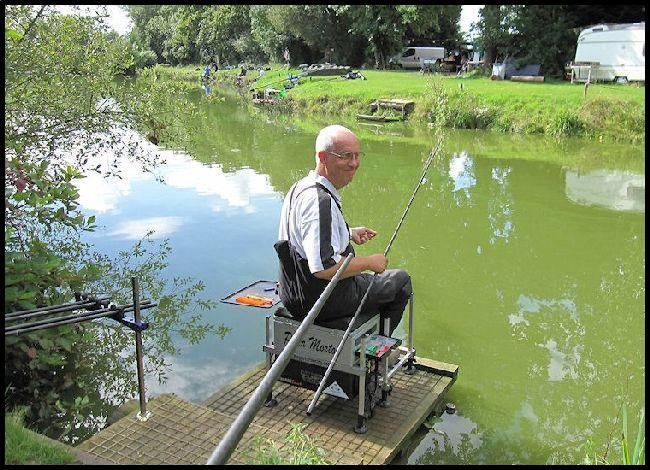 Rigs were my usual ones, Malman 4x12 Adam's on 0·20 Power Match with size 14 QM1 hooks for the 5mtr line on the deck with 0·2 MW HC margin's again on 0·20 with size 14 Guru QM1's to fish to the bushes, while bait was the usual variety of hard fishery pellets, corn and GOT Baits soft hookers, though I did have paste with me as well.

For company today on peg 7 I had Justin Watkins who fishes for Browning Crowsports and it looked like he was going to be fishing the pole across.......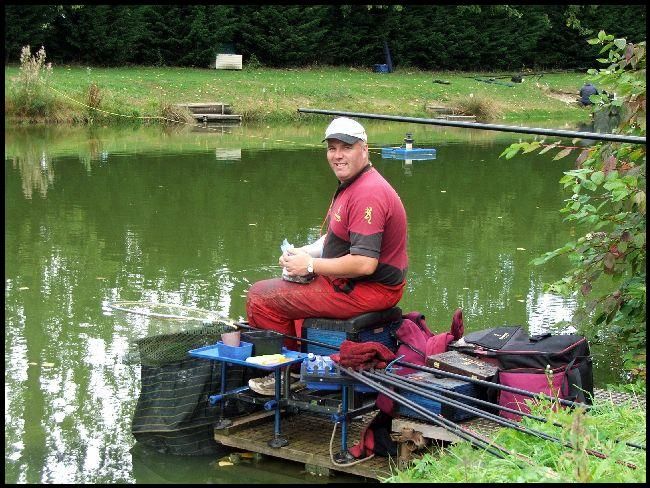 Having set up we were then treated to a sharp shower as the sky turned grey, such are the joys of an English summer
. A quick stroll while I waited for the all In revealed Mark C still getting set up, obviously out of practise at Rolfs
.......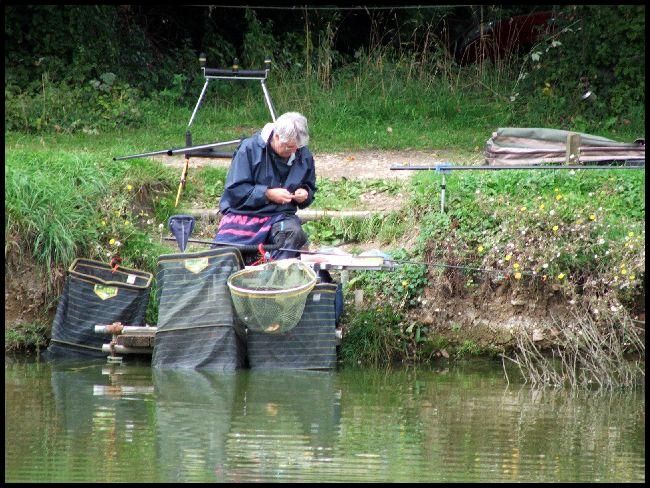 Royst was still beavering away too, evidently he'd forgotten how deep the big lake is and had found that none of his rigs were long enough
, so had to make up new ones .......

Larry meanwhile has settled himself into peg 18 and was hoping that the next 5 hours would finally provide him with his first ever 'Ton'.......
So at 12 noon John rang the fishery bell for the All-In. I potted a mix of pellets and corn onto the 5mtr line and a big handful to the bush, but before I could get a bait in the water Justin was playing his 1st fish of the day
having shipped across and had the float bury before he could feed.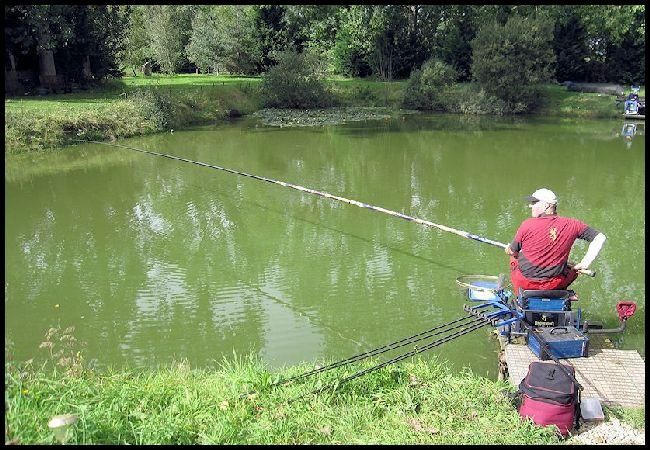 Not good for me, could I be on for a battering
? I shipped out with a banded pellet to 5mtrs, but the float tip obviously didn't want to get wet as it stubbornly refused to go under.

Simon meanwhile was obviously into a good fish over on 32, in fact it proved to be hooked in the tail, but he still managed to bundle it into the net and at 15lbs+ a great start for him
. Well an hour in and I was still fish-less. Simon was starting to put a few together, but after that initial fish Justin was suffering from foul hookers and missed bites
. I'd heard a bit of splashing coming from the other side of the bushes on peg 10 so 'The Brick' was obviously putting a few together so decided to take a look by the bush myself.

Now the fish know every root and twig that lurk under the bushes, so it's a question of how brave you want to be with how close you edge the rig in, the closer you get the more likely you are to get a bite. Well after 5 minutes I obviously got it right as the float buried and I was attached to a feisty Mirror that was determined to seek the safety of the roots, but plenty of side strain saw me gain the upper hand and after a couple of minutes an 8lb'er was safely in the net
.

What followed though was one of the most frustrating couple of hours that I've experienced in a long while as time and again fish stormed off through the bush trashing rigs
. I must have gone through 7 or 8 rigs and only had 4 smallish fish to show for it
, and a couple of those had been foul hookers. The trouble was that if I fished short I just wouldn't get a bite and they just didn't want to be tempted further out by feed.

Simon by now had slowed down and was having to feed and fish over the top of the bush toward peg 33, and it seemed he was suffering from foul hookers as well, indeed one ran him ragged surfacing past the platform on peg 33 almost in front of me
before he managed to get it in the net.

Then with about an hour to go it all seemed to come right for me in that I was hooking fish and getting them out into open water and safely in the keepnet
, I even got a weigher, only 10½lbs but most welcome as I've really struggled to find the larger fish at Rolfs this year. As the clock ticked down I felt that if nothing else I was catching up with Simon. Glancing up I could see John going to ring the bell for the All-Out and just before he did my float buried again just as the bell rang. Fish On, at least Simon was pleased for me, though it may have been something else as I didn't quite catch exactly what he said
, fortunately it stayed attached, an 8lb Mirror that joined the others in the net as others started to pack up
.

As we packed away Justin and I discussed the day, he'd suffered real frustration and only had 5 fish to show for his efforts.
I'd had a good last hour, once again to little to late, but was left ruing the fact that we hadn't fished the match to more usual Rolfs times
as the peg was getting better and better.

Having got the gear back to the car park it was obvious that some had had decent weights and once the weigh-in got under way those soon became obvious. froogy on peg 38 recording the first 'Ton' with 126½lbs
quickly followed by Mo M with 102¾lbs
.
My fish pulled the scales round to 88½lbs. Then round to peg 9 where 'The Brick' put a fine 161¾lbs on the scales which would prove to be good enough for 2nd on the day
as '20 Metre Bob' on peg 10 topped it immediately with a fine 187½lbs to take the win

.
Dan(awesome fish) finished just out of the frame however with 142¼lbs as Jay on peg 24 took 3rd place on the day with 149lbs 10ozs

. Finally I just pipped Simon in our personal battle when his fish came to a level 84lbs
.

Back at the car park and after a few minutes of spirited debate Larry and RiveT managed to sort out the monies.......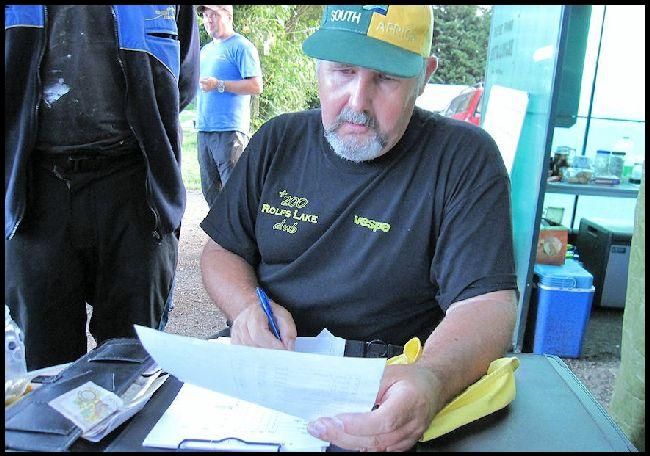 ......... and a pleasant surprise for me as I managed to take my section money
. So an enjoyable day with the TalkAngling lads drew to a close as farewells were said and a hot air balloon drifted serenely past overhead
.........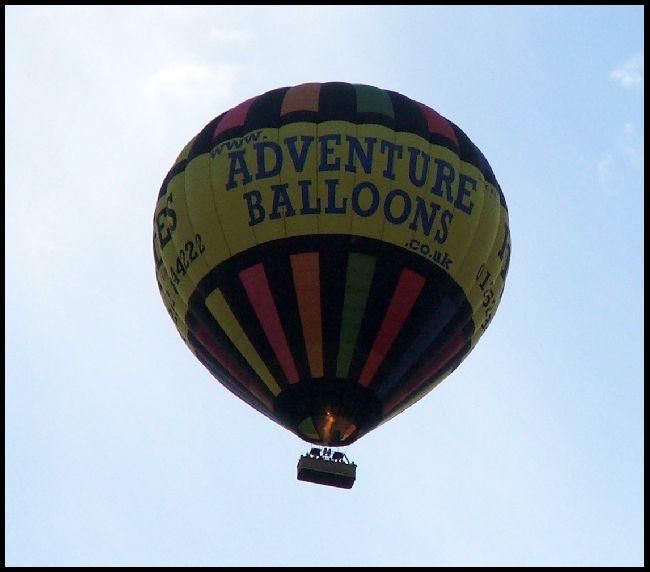 I'm of to Rockells Farm on Sunday for a club match, so keep a look out for the report
.

| | | | |
| --- | --- | --- | --- |
| Position | Peg | Angler (forum names) | Weight |
| 1st | Peg 10 | 20 Metre Bob | 187lbs 08ozs |
| 2nd | Peg 9 | The Brick | 161lbs 12ozs |
| 3rd | Peg 24 | Jay 411 | 149lbs 10ozs |
| 4th | Peg 16 | awesome fish | 142lbs 04ozs |
| 5th | Peg 38 | froogy | 126lbs 08ozs |
| 6th | Peg 40 | Mo M | 102lbs 12ozs |
| 7th | Peg 18 | Larry Teepot | 91lbs 12ozs |
| 8th | Peg 8 | Pete 'Mugger' | 88lbs 08ozs |
| 9th | Peg 32 | Simple Simon | 84lbs 00ozs |
| 10th | Peg 30 | Royst | 82lbs 12ozs |
| 11th | Peg 13 | Steve 123 | 80lbs 12ozs |
| 12th | Peg 26 | Rive T | 80lbs 04ozs |
| 13th | Peg 2 | Budgie | 52lbs 12ozs |
| 14th | Peg 34 | Cov Blaze | 46lbs 04ozs |
| 15th | Peg 14 | Marco | 43lbs 04ozs |
| 16th | Peg 6 | Rive's Mate | 41lbs 14ozs |
| 17th | Peg 7 | Justin Watkins | 39lbs 04ozs |
| 18th | Peg 28 | Mark C | 28lbs 12ozs |
| 19th | Peg 40 | Flexi Mo | 15lbs 00ozs |